Tuesday, 18 November 2014
David reflects on his experience on a day of high class music making and drama at the Sage.




'Brass in Concert' has become the premier Brass Entertainment event in the world attracting twelve of the world's best brass bands to perform in one of the UK's great venues, the Sage (Gateshead). In many respects it's a shame the day is packaged as a contest rather than a festival, although I'm sure it is this element which continues to drive the standard of performance and presentation higher year on year.

Having not performed at the event for several years I had been looking forward to taking to the stage with the Flowers band to deliver a programme of new compositions and arrangements by the talented young composer Jonathan Bates. When presenting a 23 minute set of music (Brass in Concert guidelines) it is fair to say a programme including two movements of a euphonium concerto, as Flowers' programme did, was never going to 'tick' the entertainment box! However, the variety within Jonathan's works made sure there was always the possibility of providing a high level memorable and meaningful musical experience for the both the jury and the audience. Flowers were scheduled to play at around 5pm so I was all set for a long day of waiting around before our performance...

However, the day did not unfold as I'd anticipated! During the afternoon we had a rehearsal in a close by hotel, following which the Flowers' Band Manager Lee Downie approached me with his mobile phone - my father, conductor of the Grimethorpe Colliery Band was on the other end of the phone calling with bad news; Michael Dodd, Grimethorpe's excellent long serving principal euphonium had been taken seriously ill back stage and following medical advice was unable to take part in their Brass in Concert performance.

Grimethorpe's second euphonium player Phillipe Shwartz is a fantastic musician himself and was willing to step up to principal euphonium in Michael's absence, but Grimethorpe still needed a second euphonium player. With the contest organisers' approval my father was contacting Flowers Band to ask if I'd be prepared to help out Grimethorpe on second euphonium, and would Flowers allow me to do so. Without a second thought both the Flowers Band and myself agreed to help in anyway we could, just as i imagine any other band and bandsman would in such unfortunate circumstances.

When I arrived at the venue Michael Dodd was being treated in an ambulance, and the band were clearly shook up by the whole thing. I'd attended a Grimethorpe rehearsal to listen to the band up in Yorkshire during their preparation for the contest, so I knew their programme, and felt comfortable about reading the repertoire. After a very brief rehearsal in the warm-up room with my father and the other guys in the section, I entered the stage as a last minute substitute 2nd euphonium to perform with Grimethorpe in a set which included music by Chris Bond, Charlie Chaplin, Karl jenkins, Barry Forgie and Dan Price.

The band sounded superb from where I was sat, with Phillipe doing a great job on solo euphonium one side of me, and solo baritone Mike Cavanagh doing the same on the other side. I hadn't concentrated so much for a long time and did by best to join in with all their slick choreography, with varying degrees of success! Obviously for Grimethorpe it would have been much better for them to have had their settled rehearsed euphonium team, but under such unfortunate circumstances it all worked out OK in the end and the band delivered a great show.

Although Grimethorpe's work was finished for the day, I came off stage and headed straight back to the warm-up room to meet up with my own band ahead of our performance. All was well, and we entered the stage to give the final performance of the day. The first piece we played was a clever take on God Save the Queen in which solo baritone Ben Stratford excelled himself earning the 'Best Baritone' award come results time. The two movements from Stratos Euphonium Concerto in which I was featured felt good and seemed to go well, although it was a little weird playing from memory under a spotlight whilst moving images of the solar system were being shown on a big screen behind me! However, innovation is a key word at Brass in Concert, and this had certainly never been done before!

The programme closed with a beautiful setting of John Williams' Cadillac of the Skies in which a quartet played from the front of the stage, followed by Jonathan Bates' original composition Upon a Celtic Cross which brought generous applause from all in the hall for Flowers, Jonathan Bates and conductor Paul Holland.

After 12 bands the day was running a little behind schedule, so from the stage I jumped in a taxi and headed straight to Newcastle airport for a flight home which I felt certain I'd miss! As I walked towards the departure gate with friends and family, results from the Sage began to filter through via mobile phones.

I had been awarded the best soloist prize and Flowers had been awarded 5th overall! A great result for us in such high class company. The information continued to filter through… Fairey Band 4th. Favourites Tredegar and Cory, 3rd and 2nd respectively. By now I was stood at the gate next to my mother and father ready to board the plane, then the ultimate good news came our way - Grimethorpe Colliery Band had won! They'd been awarded 1st place for level of performance, and programme content, giving them an overall lead of 11 points, a comprehensive victory and superb result for both my father and the band.

When I returned home later that evening I reflected on a fantastic day, and remembered the last time I'd performed a solo at 'Brass in Concert' in 2009... I played for my father with his winning band Cory, and was awarded the best soloist prize playing a short swing number called the Hot Canary! For me the result was exactly the same this year, but with some obvious differences… I played for my father with his winning band Grimethorpe Colliery, and was awarded the best soloist prize playing two movements from a Concerto with Flowers! Happy days...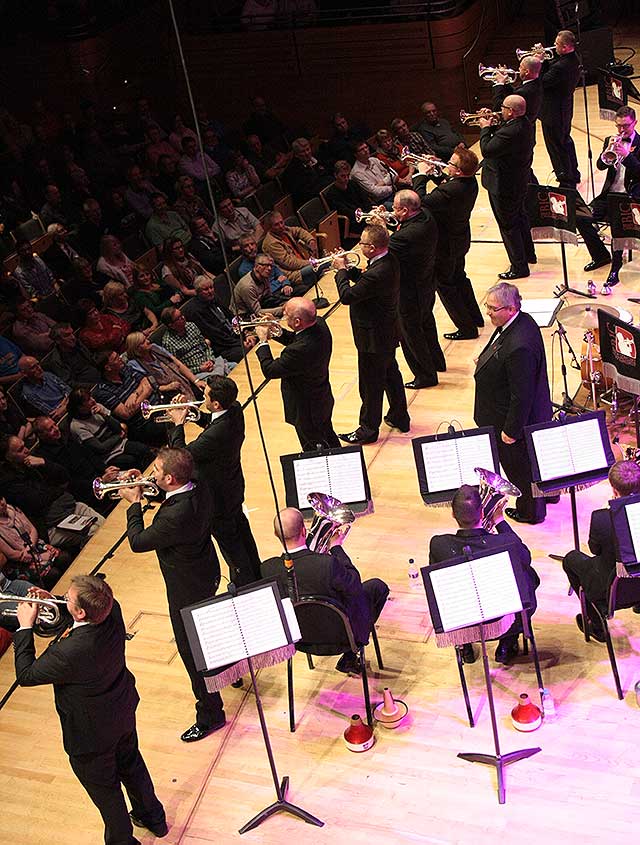 Champions Grimethorpe Colliery & Robert Childs wowing their audience!


Previous page